General Maintenance and Labor, Inc. has been providing labor and maintenance services for Petroleum, Chemical, Bulk and Marine Transportation Companies since 1981. Our goals have been to provide a safe, quality service while adapting to customers changing needs.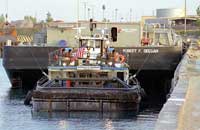 We can provide manpower and equipment in order to accomplish any labor-intensive job, around the clock, until the job is completed!
GML provides all of its services while conforming to all Local, State and Federal requirements, including background checks on all employees. GML is in complete compliance with all US Coast Guard and OSHA regulations. In addition to meeting these regulations, GMLs Drug and Alcohol program and insurance policies meet or exceed the requirements mandated in the Maritime Industry:
What we Provide:
On-Duty Scheduling (24/7)
Fully Trained Employees
Complete Record Keeping
Sign Off's on Time and Services Provided
All Types of Equipment
The Ability To Get Your Job Done
Workmans Compensation with the Longshore and Harbors Workers Rider,One (1) Million Auto, Two (2) Million General Liability with Five (5) Million Umbrella.
Search GML
Quick Links